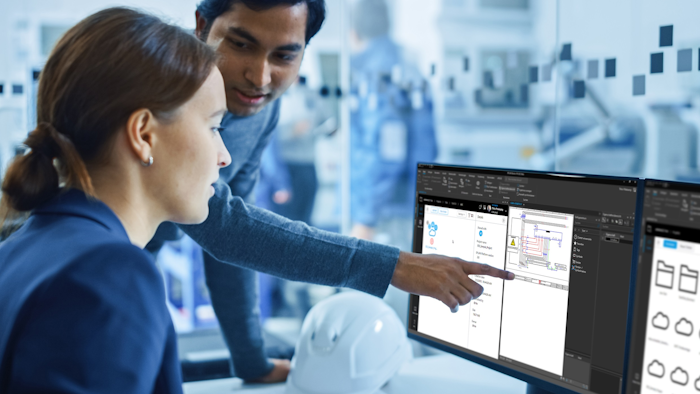 The free version of eManage allows users to upload, share and manage EPLAN Platform projects in the cloud environment. Solutions provider EPLAN (Schaumburg, IL) is now presenting the full version of the software, which offers considerably more added value: master data can be accessed in the cloud as can supplementary documents, and performance is increased with additional capacity. Collaboration is at the heart of the application, which networks OEMs, system integrators, machine builders and operators.
The full version of eManage has been available since the release of the new EPLAN Platform 2022 in September. The fee-based expansion stage of this innovative cloud software enables the first steps towards roundtrip-enabled engineering in automation. Benefit include:
Full information throughout the entire project.

As of yet, if a project is shared in the cloud, the schemat-ics are visible, but not all the accompanying documentation. The full version of EPLAN eManage offers added value in this area. Project stakeholders are provided access to all data and documentation relevant to the project, including bills of materials as well as neutral documents in Excel. These become interchangeable with a uniform foundation of data.

Master data available everywhere.

Many people work from home these days and this is where users often bump up against system limits: while they may be able to access a project, they often cannot access the corresponding master data that is specified as a standard throughout a company for design projects. EPLAN eManage now offers the exchange of system-relevant master data that can be easily retrieved and, as necessary, taken along according to the "pack & go" principle. Project managers can thus very easily make master data centrally available.


More storage for optimal performance.

With the free version of eManage, users so far have had access to 10 gigabytes of storage capacity in the EPLAN Cloud. With the full version, this capacity increases by an additional 10 gigabytes for each "seat" in the company, and this increased storage space is available to everyone. There is also another benefit that pays off for companies with increased performance: the additional cloud storage is an active collaboration environment and not just purely storage capacity. This also ensures optimal conditions for global collaboration across national borders. Users of EPLAN software who use the Conversion Package as part of changing over to a subscription automatically receive access to the full version of eManage.