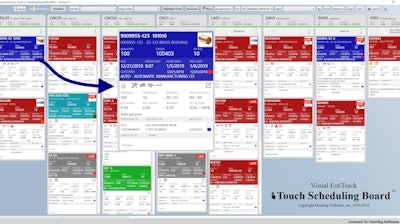 Henning Industrial Software (Hudson, Ohio) offers new additions to its Visual EstiTrack ERP shop management system with enhanced releases of the Touch Scheduling Board and iVET mobile phone/tablet application. Specifically:
The latest release of Henning Software's Touch Scheduling Board has new features that allow users to flag Parts that require Aerospace, Heat and/or ITAR (International Traffic in Arms Regulations) control to help ensure proper shop floor compliance handling.

Henning Software's Scheduling Board uses an intuitive drag-and-drop touch screen interface allowing users to schedule shop order operations, represented as cards, within and between work centers represented as swim-columns. The Touch Scheduling Board is designed to emulate and replace the magnetic scheduling boards often found in shops.
This planning/scheduling tool is designed to be deployed on large touch-screen monitors on the shop floor and is fully integrated into Visual EstiTrack ERP to make it easier for shop floor personnel to prioritize operations, view/set statuses (Waiting for Setup/Tooling, Material, On Customer Hold, etc.), move operations from one work center to another and allow employees to clock in and out of shop order operations from the Scheduling Board.
www.henningsoftware.com/products/touch-scheduling-board; 330-650-4212