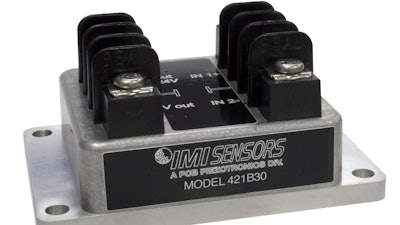 PCB Piezotronics, Inc. (Depew, NY), a wholly owned subsidiary of MTS Systems Corporation, has announced the release of Models 421B30, 421B31 and 421B3X, differential charge amplifiers designed for use with differential, charge mode accelerometers and pressure sensors. The products were developed for use in power generation turbine research & development and rotating asset monitoring in nuclear facilities. The product features:
Variety of input sensitivities allows pairing with charge-mode accelerometers and pressure sensors.

The ability to convert from an input sensitivity in one engineering unit to an output signal in a different engineering unit.

Voltage (mV) and current (μA) outputs for flexibility in applications with long signal transmission distance requirements.

Configurable high-pass and low-pass filters allow for application-specific frequency response.