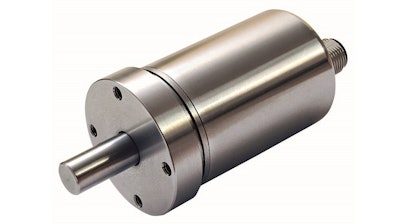 CVM42H CANopen Multi-Turn Absolute Encoders from Pepperl+Fuchs (Twinsburg, OH) feature a stainless-steel housing, flange and shaft, and utilize magnetic sampling to deliver 24-bit resolution position value through the CANopen protocol. According to the company, these compact rotary encoders excel in harsh environments with high mechanical stresses, and are ideal for withstanding constant shocks and vibrations, high bearing loads, dirt and temperature fluctuations. Applications typically include mobile equipment, steel production, wind turbine and packaging applications. Other benefits include:
Availability with an IP66, IP68, or IP69K environmental rating.

Axial and radial shaft load capacity to 270 N, vibration resistance to 30 g and shock resistance to 300 g.

Rated for use in operating temperatures from -40 degrees C (-40 degrees F) to +85 degrees C (185 degrees F).
Compact dimensions with simple mounting.
Resolution of up to 1°, offering the most precise positioning of movable tools on lifting systems or cranes.
www.pepperl-fuchs.us; 330-486-0001