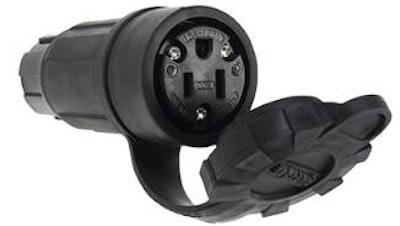 Legrand (Syracuse, NY) has announced the expansion of its Pass & Seymour industrial watertight product line with new products designed to safety in a variety of harsh applications. Specifics include:

• Watertight Ground Continuity Monitoring – The new industrial watertight ground continuity monitoring products have a dual bright blue or red LED indicator, which is encased in a transparent thermoplastic elastomer. This allows the lights to be seen while providing a NEMA 6P/IP67 rating.
• Black Watertight Plugs and Connectors – 14W47BK (2)New Pass & Seymour black industrial watertight plugs and connectors are made with thermoplastic elastomer all-black construction that stands up to impacts, oils, chemicals, heat, and weather. The nickel-plated blades and contacts are designed for long lasting, superior 15W47BK (2)corrosion resistance and the multipoint sealing system provides environmental protection of: NEMA 4, 4X, 6, 6P & IP67 ratings.
• Watertight Receptacles – New Pass & Seymour industrial watertight receptacles offer an impact-resistant Valox lid, cover plate, and receptacle body that withstands impacts, chemicals and corrosion. These receptacles come with spring-loaded flip covers that offer protection when the device is not in use and are made with a stainless steel hinge spring and pin for corrosion resistance.

www.legrand.com