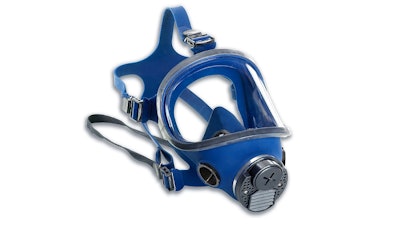 Dentec Safety Specialists (Lenexa, KS) announces the latest developments in respiratory comfort and effectiveness: the Comfort Air full face masks, made with a unique new material called special compression silicone. According to the company, this advanced material is not only softer for greater comfort, but it also provides a better fit. This new material means there are no compromises on price to get silicone quality. Now a worker who has to wear a full face mask for long periods can be more productive without asking their employers for a more expensive mask. Other benefits include:
A universal fit design that allows employers to have one size to fit most.

A 5 point harness that provides an even, comfortable fit with no slippage.
An anti-fog hard coated lens and an optional prescription lens insert also available. The inner mask prevents CO2 build up and the quick release shielded buckles make removal easier.
Extra large inhalation valves which decrease breathing resistance when inhaling, increasing comfort and productivity.

The unique metal speech diaphragm enables high quality communication.
A unique space plenum built into every cartridge and filter retainer, allowing the wearer to use up the cartridge more completely (to the outside edges) so that the cartridges last a lot longer. This also reduces filter loading and breathing resistance.
The Comfort Air full face masks are available in two materials, silicone and neoprene. Comfort-Air respirator products are available in air purifying half mask and full face masks with cartridges, half and full face masks air supplied.
www.dentecsafety.com; 888-533-6832