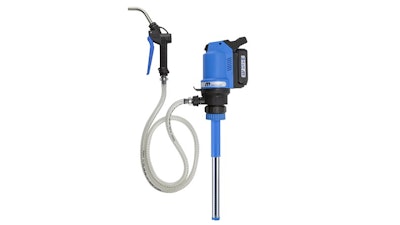 Macnaught USA (Tampa, FL) has introduced its BOP20, the industry's first battery-powered pump system for oil applications. Designed to improve shop efficiency, reduce operator fatigue and eliminate spillage, the BOP20 series is ideal for pumping hydraulic and gear oils from five-gallon containers and replaces manual pumping and pour methods. Features include:
An 18-volt, 2.0 Ah lithium-ion battery, which delivers up to 40 gallons on a single charge with flow rates up to one gallon per minute. The modular pump's flow nozzle enables one-handed operation with on-demand flow control.
A safety lockout carry handle, so the BOP20's portable powerhead can be transferred easily across multiple pump stems to reduce setup costs, while the unit's sealed, wetted parts prevent contamination.
Suitability for lubricants ranging from 0W40 to SAE90.
The BOP20 Starter Kit, which comes with a pump powerhead, stem with adjustable suction tube, adapter, flow nozzle, 5-foot (1.5-meter) hose, lithium-ion battery and charger.
The pump, which has a two-year warranty, is suitable for automotive, truck and bus, marine, construction, mining, aviation and agriculture applications, as well as for plant equipment.
www.macnaughtusa.com; 813-628-5506