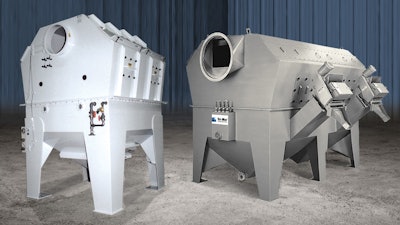 Tri-Mer Corp. (Owosso, MI) has introduced a sanitary design version of its "MCD" Whirl/Wet dust collector.
MCD is the acronym for "modular conveyor disposal" and was designed for applications requiring a sanitary design that also have continuous or intermittently high dust loadings. Collected particulate is continuously removed from the collection hopper via a removable conveyor system, allowing operation (also routine maintenance) to continue, free of interruption.
OSHA and NFPA rules regarding volatile dust emissions have renewed interest in wet collection technology. The Tri-Mer Whirl/Wet collector is an excellent option for collecting virtually all particulate over 1 micron, whether or not the dusts are volatile.
The original MCD Whirl Wet was manufactured in 100% polypropylene and is widely used for the collection of dusts from blending and bagging operations in sugar processing, cereal manufacturing, breading and spice blending. The newer sanitary design system – commonly constructed from stainless steel - is ideal for applications requiring both clean-in-place and external washdown capabilities without shutdown. Additionally:
The Whirl Wet is 95-99% efficient for soluble and insoluble particulate. Energy generated inside the unit prevents system clogging, therefore, the glutinous residues that are common with some dust collectors are not an issue.

The system is also unique in that it does not use common "high-maintenance" components, such as spray nozzles, pumps or dust bags. Instead, the Whirl/Wet uses a proprietary process to create intense mixing of particulate and water.

Whirl Wet dust collectors have no internal moving parts, are self-cleaning and energy-efficient. Water use is low

:

following the initial charge, water additions are only needed to compensate for evaporation and drag-out.
www.tri-mer.com, 989-723-7838