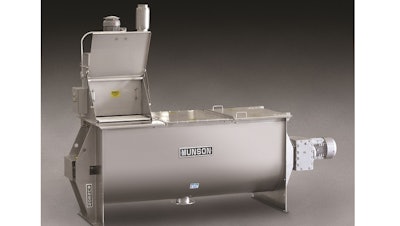 A new Ribbon Blender (model HD-3.5-9-SS) from Munson (Utica, NY) features an integral bag dump station that collects dust generated during manual dumping activities, improving worker safety and plant hygiene. Dust is drawn onto cartridge filters of the dust collector as nozzles within each filter alternately emit short blasts of air on a timed cycle, serving to dislodge accumulated dust and maintain vacuum efficiency. Specifically:
The unit can blend up to 85 cu ft (2.4 m

3

) of powders, pastes or slurries in five to 10 minutes depending on application.

Its length-to-diameter ratio and split double-helical agitator reduce the time required to uniformly distribute particles having dissimilar sizes, shapes and bulk densities throughout the batch.

Tight tolerances of 1/8 to 1/16 in. (3.175 to 1.587 mm) between the ribbon blades and the vessel trough minimize residual product following discharge, reducing material waste and cleaning time.

Hand-held sacks are slit and dumped through a welded grate which helps trap oversized lumps and bag scraps, as airborne dust is drawn away from the operator. At the opposite end of the blender, a hinged lid with removable, safety-interlocked grate as standard provides access to the vessel interior for cleaning and inspection.
www.munsonmachinery.com; 800-944-6644