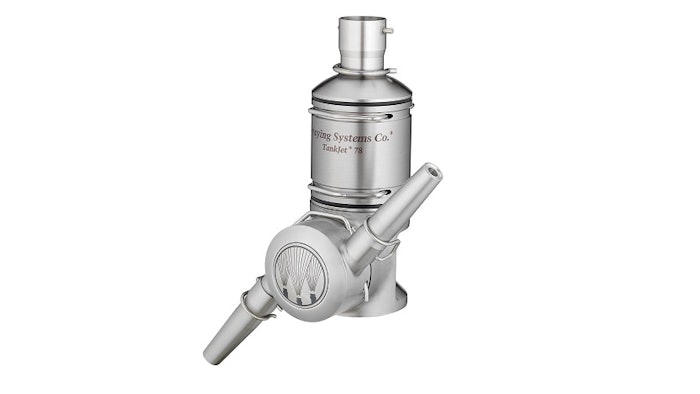 The TankJet 78 tank cleaner for quick and thorough cleaning of tanks up 45' (13.7 m) in diameter is now available from Spraying Systems Co. (Wheaton, IL). Equipped with solid stream nozzles, the TankJet 78 tank cleaner provides high-impact cleaning and 360° coverage to ensure complete cleaning of all interior tank surfaces. The unit features:
A unique self-draining, threadless design that meets the 3-A standard 78-01 requirements for spray devices intended to remain in place.
The ability for users to service and maintain the unit without tools. Assembly and disassembly can be done in less than five minutes. Rotating multi-axis tank cleaners from other manufacturers require a bench vice, tools and a far more significant time investment for maintenance.

 

Single-hub, two-nozzle or dual hub, four-nozzle designs. The TankJet 78 tank cleaner can be mounted permanently or moved easily from tank to tank, and the unit also retrofits directly into existing spray ball installations.
The TankJet 78 tank cleaner is ideal for cleaning blenders, brewery tanks, food processing vats, dairy tanks, spray dry towers and more. It is also well-suited for use in non-sanitary operations where debris and clogging necessitate frequent maintenance. 
www.tankjet.com; 630-665-5000