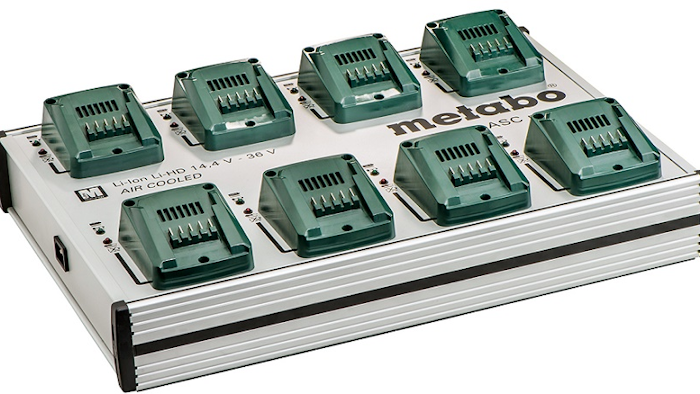 Metabo Corporation (West Chester, PA) now offers a Multi-bay 8 Pack Charger (627291000), said to be the world's first industry charger that charges 8 batteries at the same time. This charger can charge 18V or 36V batteries and is compatible with all existing Metabo battery packs, including the new Ultra-M 7.0 Amp hour Lithium High-Density Battery. Charging time is independent of the type of batteries charging and number of batteries plugged in. Features include:

LED indicators that let the user know the battery's condition and charge.

 

An on/off switch, a handle for portability and wall mounting keyholes to save space.
A heavy-duty aluminum housing to enhance longevity.
Metabo's patented Ultra-M Air-Cooled Technology that accelerates the charging of hot batteries, resulting in a faster charge and increased battery life.

 
This charger is ideal for medium-sized companies, large industrial companies or even a smaller shop that needs to run a variety of cordless tools.
www.metabousa.com; 800-638-2264