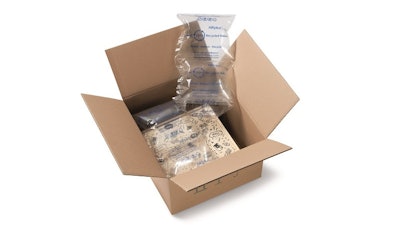 The protective packaging specialist Storopack (Cincinnati, OH) launches a new air pillow film that is produced from 100 percent recycled material. Storopack is a pioneer in the production of a 100 percent recycled film with a mixture of post-consumer and post-industrial waste. AIRplus 100% Recycled offers the same outstanding and resistant protective properties as conventional air pillows. This solution is thus ideal for companies that value high-quality protective packaging to keep their own products safe as well as sustainability. Specifically:
The lower material use of air pillows compared to other materials can also save costs.

AIRplus

100% Recycled is recyclable and should be added to the recycling loop after use.

The result is 16 percent less greenhouse gas emissions during production compared to air pillow films made from virgin material.

Due to the light weight of air pillows, CO

2

emissions are also reduced in the entire logistics chain compared to alternative materials.

The use of recycling material also saves fossil resources.