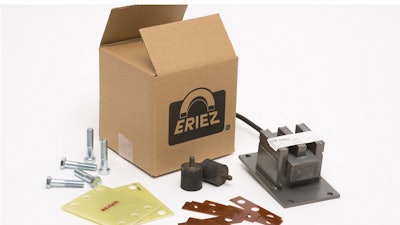 Eriez (Erie, PA) has invested millions into spare parts inventory within its recently expanded Service and Repair Center to meet increased demand and help customers keep production moving.
Eriez sells both standard and custom equipment to handle the unique requirements of manufacturers around the country in diverse industries. According to the company, Eriez stocks parts that integrate with Eriez equipment as well as competitors' products, including a balance of stock components--such as motors, reducers, bearings and plastic chain belts--which are applicable to most standard equipment, as well as custom parts for Eriez state-of-art products specially designed to meet a customer's specific application requirements.
The Eriez Service and Repair Center is located at the company's Wager Road plant near its corporate headquarters in Erie, Pennsylvania. In addition to spare parts, Eriez' Service and Repair Center offers a 24/7 service hotline, on-site field service equipment remanufacturing and full "as new" warranties.
http://erieznews.com/nr571, 814-835-6000