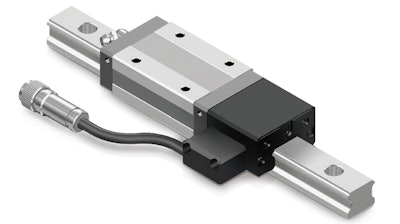 New from THK (Schaumburg, IL), the Type SHS-LE integrates the global standard THK Type SHS LM Guide with a THK linear encoder (linear position sensor). This combined model allows for compact machine designs that require less assembly time. Specifically:
THK's Type SHS Caged Ball LM Guide performs with high speed and precision. Each row of balls is arranged at a contact angle of 45°, enabling the SHS to be used in all directions.
The SHS features patented THK Caged Technology for smooth and quiet motion. Caged Technology employs a synthetic resin cage with a patented curvature that cradles each ball and separates it from the next. The spaces between the rolling elements retain grease and act as a lubrication system for long-term maintenance-free operation. Other Caged Technology benefits of the Type SHS include increased speed and accuracy, decreased noise levels, low dust generation and long life.
www.thk.com; 847-310-1111