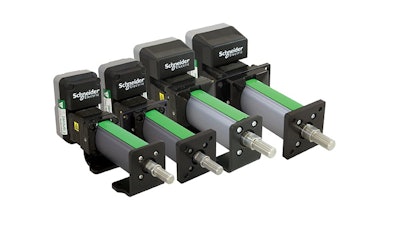 Schneider Electric Motion (Marlborough, CT) announces that captive shaft electric cylinders are now available for Lexium MDrive (LMD) integrated motor products. Quiet, clean and compact, these LMD products integrate motor, controls and electric cylinder to deliver linear motion. And, unlike pneumatics, there is no need for compressed air, eliminating that expense, maintenance and noise.
Lexium MDrive products integrate 1.8° 2-phase stepper motors with onboard drive electronics, controller and encoder which includes an Absolute Encoder option. Fully programmable motion controllers can communicate via EthernetTCP/IP, CANopen or RS-422/485. Products may be operated in several modes including closed-loop, torque control and variable current control for energy savings and reduced heating. This high degree of integration, which now includes an optional electric cylinder, can reduce machine complexity, size and cost in many motion applications.
Captive shaft electric cylinders are available with LMD products in NEMA motor sizes 17 & 23 with details online.
www.motion.schneider-electric.com/all-products; 860-295-6107