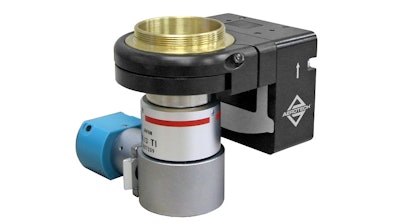 The QFOCUS QF-50 piezo nanopositioning stage from Aerotech (Pittsburgh, PA) is designed for high-performance microscope objective and optics positioning. It offers 400 μm closed loop and 450 μm open loop travel, high speed, 0.01% linearity, sub-nanometer resolution and 4 nm bidirectional repeatability. The QF-50 offers the following specific benefits:
It accommodates optical instruments and next-generation laser micromachining applications.
Due to a high-stiffness mechanical design, it can outperform competitive piezo scanner offerings with larger, higher numerical aperture (NA) objectives.
It is ideal for optical positioning applications requiring high precision and throughput coupled with long travels.
www.aerotech.com; 412-963-7470