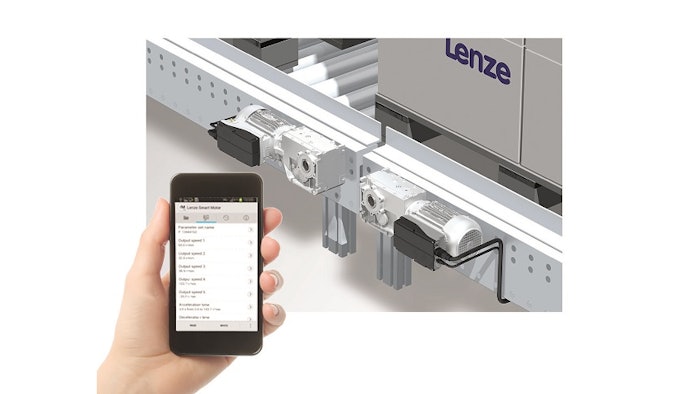 Lenze Americas (Uxbridge, MA) offers out-of-the-box Smart Product solutions for easy commissioning and operation of roller and chain conveyors. According to Lenze, its Smart Products deliver a superior mechatronic drive solution for clearly specified roller and chain conveyor applications, and drive selection, definition, installation and parameter setting are made easy for machine builders and operators. Lenze has also streamlined the process of defining the conveying system, selecting the installation version and fixing the payload. Smart Product solutions are supplied with engineering documentation and design of ready-made modules, including CAD blueprints, dimensioned drawings and EPLAN macros for easy integration by machine builders. Other features include:
The ability for integrated Smart Products to be paired with a smartphone for remote authenticated user access in Industry 4.0 initiatives. An intuitive and user-friendly Lenze smartphone app enables easy selection of the motor fixed speed and total freedom in gearbox torque variation for virtually limitless expansion of a single drive type.
A design that makes for easy installation and maintenance. Lenze Smart Products are available in outline and inline versions covering six payload classes ranging from 2,200 to 11,460 lbs.
Built on parameterized programming technology, the universal drive tools incorporate Industry 4.0 mechanisms to simplify kinematic programming and expedite deployment of conveyor systems.
www.lenze.com/en-us/products/lenze-smartproducts; 800-217-9100