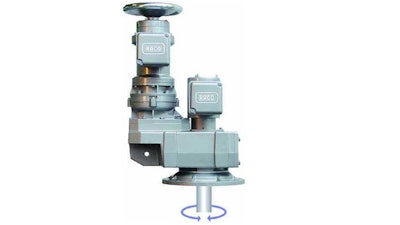 The RM Rotary Actuator from Raco International (Bethel Park, PA) is designed to automate the operation of valves, gates, dampers, louvers and other positioning applications requiring partial or multi-turn rotational movement. The RM Rotary Actuator consists of three basic components: gearbox, motor and adjustable limit switches secured in an accessory housing. Specifically:
The helical gear design provides a high level of efficiency with low noise admission.
The gearbox is permanently lubricated with synthetic oil.
The standard output interface is a hollow shaft.
An optional solid output shaft arrangement is also available.
The RACO motor has a high starting torque and a low rotor inertia making it ideal for rotary applications.
www.racointernational.com; 888-BUY-RACO