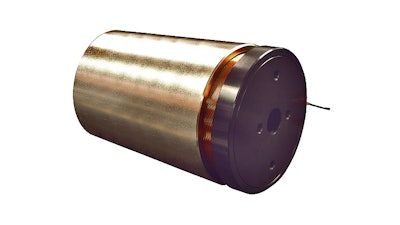 Moticont (Van Nuys, CA) has added a new, higher continuous force, higher peak force linear voice coil motor to its series of 2.750 in. (69.9 mm) diameter x 3.50 in. (88.9 mm) long (housing) voice coil motors. The LVCM-070-089-03 linear voice coil motor features 40.86 lbs. (181.5 N) continuous force and 129.1 lbs. (573.4 N) peak force. This clean, quiet, efficient, low inertia, high acceleration, brushless high speed linear motor has zero cogging and features high accuracy, and a high repeatability to less than1 micron (0.00004 in.) when operated in a closed loop as a DC servo motor. This compact, more powerful motor is ideal for:
Work holding and clamping.
Antenna positioning.
Medical devices.
Assembly and testing.
Laser machining and drilling.
Wafer handling.
Optical focusing.
Dynamic vibration absorption.
Scanners and laser beam steering and filtering.
www.moticont.com; 888-785-1804