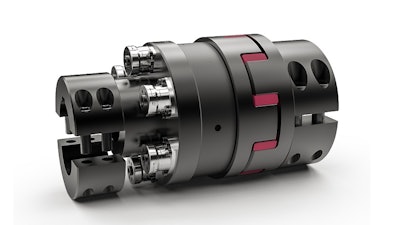 R+W (Bensenville, IL) has again expanded its line of ST series safety couplings, with a specially designed version now available for the protection of extruding equipment. Taking advantage of the well-proven ball-detent safety element system, the driving and driven ends separate within milliseconds of a torque overload, protecting the extruder from damage and reducing expensive repairs and costly downtimes. According to the company, the driveline is free to coast to a stop after disengagement, and re-engagement simply requires that a force be applied to the back sides of the plunger modules, either with a soft hammer or pry bar. A wide variety of disengagement torque values are available through a selection of adjustment ranges. Other design features include:
An integrated elastomer-jaw set, absorbing vibration and shock, as well as allowing for compensation for axial, angular, and parallel shaft misalignment.

 

Lateral mounting by means of the fully split clamping hubs, which simplifies the installation process and eliminates the need to move heavy motors and gearboxes during installation or removal.
www.rw-america.com; 630-521-9911