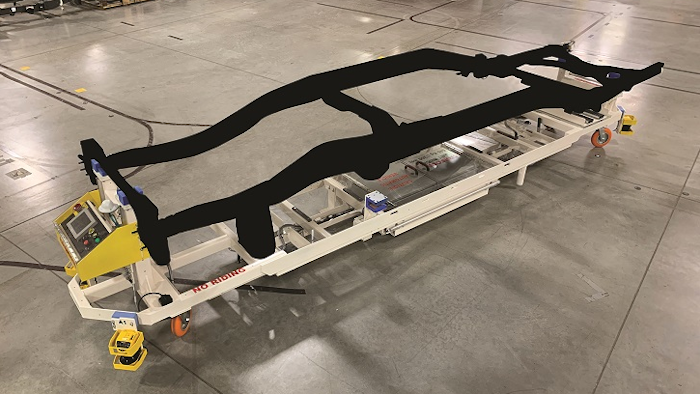 Creform (Greer, SC) has introduced an unusually long version -- measuring 17' L x 30" W x 39" T -- of its model CA-B50100-NSI, Bi-directional AGV. The AGV is used to transport light truck frames for a repeat automotive assembly customer. It measures approximately 17 ft. long to accommodate the truck frames, and was custom designed and built by Creform with fabricated steel for strength and durability. Specifically:
The model is bi-directional with Creform bolt-on drives, with each end of the AGV following a guidepath independently to ensure accurate and repeatable tracking and

to

provide greater flexibility of movement.

It travels along an approximate 700 ft. guidepath, with frame detecting proximity sensors included for added safety.

The dual drive wheels also give this AGV high load capacity and the ability to travel laterally, useful for space restrictive areas and to allow the AGV to side shift into an interface position either for an automated lift, or personnel.

The unit comes with powered engage/disengage to raise/lower drive wheels. When the drive wheels are raised, the AGV can be repositioned by a couple of associates.
The AGV runs two shifts per day and is loaded by forklift and unloaded by robotic lift. The route, moving frames from incoming receipt area to assembly line, features eight stops. The vehicle stops automatically and starts when released by the traffic control system. It is part of a 15-vehicle system, and the traffic control system is connected to plant's overall production system for complete integration.
www.creform.com, 800-839-8823