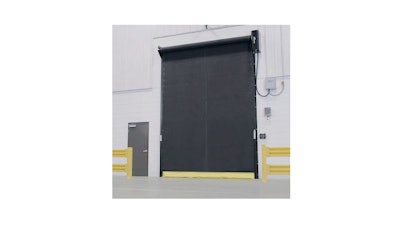 Rite-Hite (Milwaukee, WI) has expanded its lineup of high-speed doors with the introduction of the Raptor series of rubber doors. Made from ¼" SBR (styrene-butadiene) rubber, the Raptor doors offer enhanced durability in tough and harsh environments and boast some of the industry's fastest cycle times in both loading dock (Raptor Dock) and in-plant (Raptor Pro) applications.
The Raptor Dock and Raptor Pro are roll-up style doors made from SBR rubber that are housed on an overhead barrel when open. Raptor Dock doors use counter-balance springs (cycle rating 25,000) to assist the Jack-Shaft Operator, while the Raptor Pro uses a springless, direct drive, variable speed operator system. These rubber doors offer increased durability – and require minimal maintenance – when compared to rolling steel or sectional doors. They operate at speeds of 48" per second, depending on door size, which approaches the speeds of the fastest high-speed fabric roll-up doors.
A breakaway feature automatically re-feeds a Raptor door back onto its track if a worker or forklift impacts it. This allows operations to continue immediately, without the need for repair.
www.ritehite.com, 800-456-0600