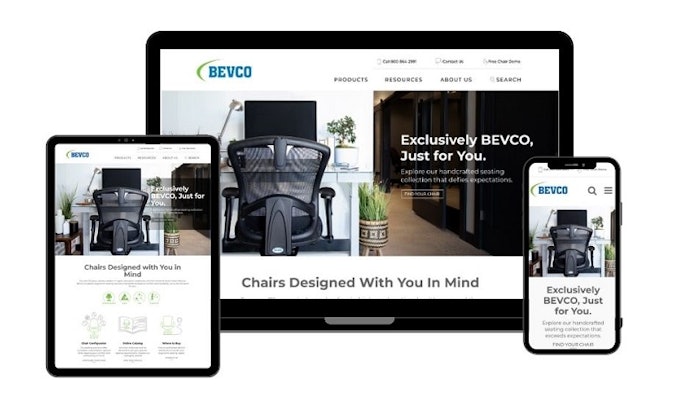 BEVCO (Waukesha, WI) has redesigned its website with the user in mind. The primary objectives of these site development efforts were focused on aesthetics, simplifying the content, and increasing the visibility of the resources that are most important to customers. The new design allows for smoother navigation and a more responsive layout that is fast across all platforms. The clean, modern look and layout will make it easier than ever to find what you're looking for. Explore these specific homepage features: 
Chair Configurator: Easily access the chair builder tool. Bevco's seating solutions offer incredible customization options while keeping your comfort and wellness top of mind. The chair configurator makes the product selection process super simple. Once you've determined the chair that best meets your needs, requesting a quote is as easy as clicking a button (literally). 
Online Catalog: Explore a collection of 15 product families in the Bevco catalog. This online catalog is highly interactive allowing you to feel like you're flipping through a paper copy, but doing it on your computer. You can download this tool into a PDF on your desktop too.

Where to Buy: Were you aware that Bevco does not sell direct? It partners with a select group of authorized distributors to provide you with an industry specific one-stop-shop experience. Let Bevco know what you're looking for and they'll connect you with the distributor that will best handle your ergonomic seating needs. 
www.bevco.com; 800-864-2991