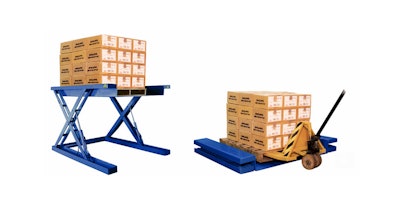 The Zero-Low Scissor Lift Table from Air Technical Industries (ATI; Mentor, OH) is designed to serve as a solution for lifting & handling operations requiring roll-on loading at floor level without requiring hazardous ramps or costly pit construction. The Zero-Low Scissor Lift Table units are low-maintenance, versatile, and can help in any operation where the load starts at ground level and is raised to your desired working height, making this model suitable for forklift free operations. Zero-Low Lift Tables are available in:
Capacities ranging from 250 pounds up to 50,000 pounds.

Platforms as small as 26" x 36" up to 72" x 192".

Vertical travel from 18" to 96" high.
www.airtechnical.com/product/zero-low-scissors-lift-tables/; 800-321-9680