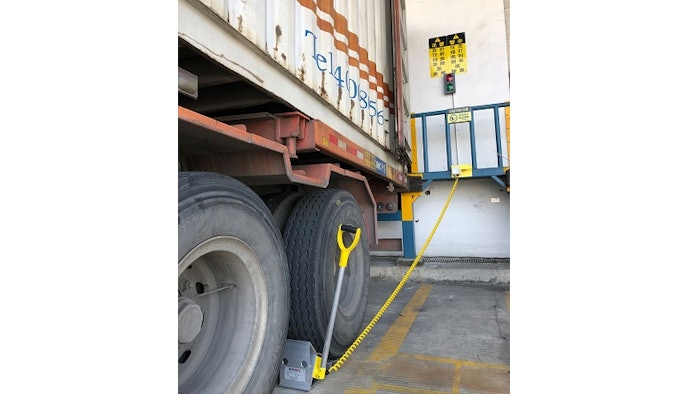 Rite-Hite (Milwaukee, WI) has recognized the potentially ineffective and dangerous practice of chocking trailer tires. The introduction of the company's Global Wheel Chock addresses these shortcomings by providing an advanced chocking system that integrates with a Dok-Lok Style Light Communication System and is available with Rite-Vu auxiliary communication lights, approach detection system, camera engagement verification and smart dock alerts to enhance loading dock safety on a scalable budget.
The Global Wheel Chock differs from other traditionally offered wheel chocks in many ways. From the moment the trailer backs down the drive approach, the GWC, when paired with Approach-Vu™, audibly and visually alerts outside personnel that a trailer is approaching. With tractor-trailer combinations comprising the 2nd leading cause of back over fatalities in the U.S. (OSHA), this protection is critical for any company with "boots on the ground" outside the facility.
Once positioned, an ultra-sonic sensor communicates safe tire engagement through Rite-Hite's Dok-Lok Style Light Communication System, a staple in the industry for over 40 years. If the sensor loses tire contact, audible and visual alarms alert dock personnel inside and outside the building that the chock needs to be re-engaged prior to safely continuing operations.
www.RiteHite.com; 800-456-0600