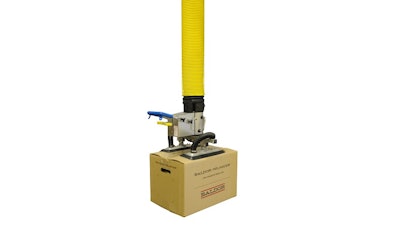 UNIMOVE, LLC (Palmerton, PA) presents the CM500 vacuum tube lifter for safe and ergonomic handling of bags, boxes, pails, drums, sheet rock and more. A robust pulley-driven power unit, operated at up to 5000 rpm, provides the highest lifting capacity in the industry and the ability to effectively handle both porous and non-porous materials. Additional features include:
A 5" diameter copolymer RHINO Tube that lasts significantly longer than traditional lifting tubes.
A capacity of 140 pounds (non-porous, 110 pounds* porous), automatic balance control, and the ability to accommodate 6-10 moves per minute, making the CM500 is ideal for in-plant material handling, warehouse lifting, production line work and more.
The RHINO Tube's copolymer construction, meaning it lasts up to 6-times longer than traditional lift tube designs, with no skewing. This versatile material withstands up to 1 million flexes, has an operating range of -40°F to 240°F and is totally inert to chemical attack, which makes it ideal for washdown environments.
www.unimove.com; 610-826-7855