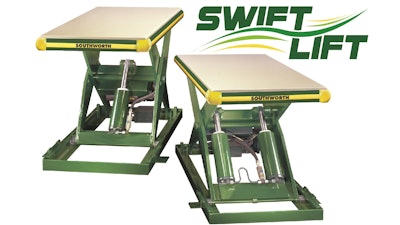 Southworth Products Corp (Portland, ME) announces a new program to maximize the availability of an unprecedented number of lift tables and vertical lifting and positioning equipment for fast delivery. According to Southworth, the SwiftLift program combines the thoughtful application of modern engineering, materials planning and manufacturing technology to go well beyond any other availability program in the industry. Specifically:
SwiftLift puts LS Series hydraulic lift tables and other products like PalletPal pallet positioners and E-Z Reach container tilters into 3 categories of availability: Stock, Modified and Modified Plus, with maximum shipping lead times of 1, 2 or 3 weeks respectively.
Offerings in the Stock Product category include over 65 lift table, level loader and container tilter models for shipment in 1 week or less.
Modified Products include all the items in the stock category, plus the ability to modify lift tables to include any platform size up to 72" x 96" in one-inch increments, as well as several popular options. Lift configurations in the Modified category number well over a thousand and ship in two weeks or less.
Modified Plus Products include an even greater number of available options and even offer the opportunity for users to specify some light customization of lifts. Modified Plus Products ship in 3 weeks or less.
Southworth will continue to provide custom lift equipment, but now with SwiftLift most users can often get exactly what they need without the wait associated with a custom engineered solution.
www.southworthproducts.com; 207-878-0700