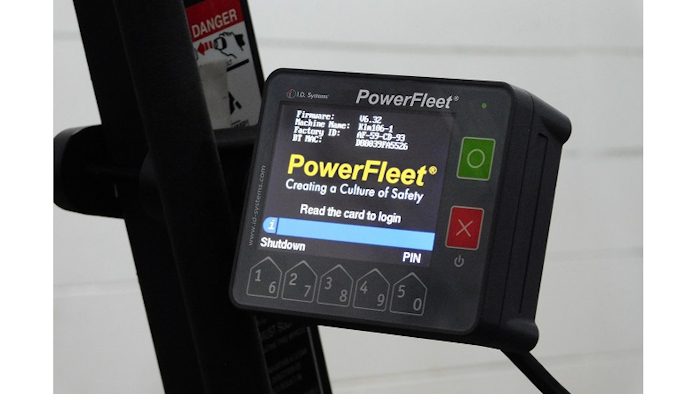 I.D. Systems, Inc. (Woodcliff Lake, NJ) has announced the launch of PowerFleet Essence, a new class of industrial truck telematics platforms aimed at small to medium sized fleets used in manufacturing, distribution, logistics and retail centers. The PowerFleet Essence consists of the OC53 operator console mounted on the industrial truck and the PowerFleet Control Center app downloaded to an iPad or iPhone. The system communicates using a Bluetooth direct connection, so it does not require complicated IT support or Wi-Fi networking. Benefits include:
Simplified physical installation of the OC53 hardware. Communication with the PowerFleet Control Center application works out-of-the-box, and industrial truck data is collected automatically while in range of any app-enabled Bluetooth device, then displayed and managed in the intuitive, "self-service" PowerFleet Control Center app.
Configurability to support different languages to simplify operator comprehension, adoption and action. Initial support includes English, Spanish, French and German.
PowerFleet Essence ensures site managers in warehouse, manufacturing, distribution and retail environments at any scale can know that only certified operators are using their equipment, when they have completed required safety inspections, and how their equipment is operated to reap the savings of safer industrial truck operations.
www.id-systems.com; 813-877-4500