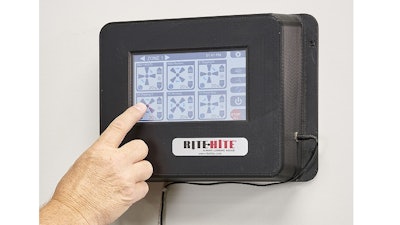 The Fan Commander 2.0 control station from Rite-Hite (Milwaukee, WI) coordinates the operation of up to 24 high-volume, low-speed (HVLS) Rite-Hite fans. Maximum energy savings and employee comfort can be achieved year-round from a single 7-inch color touchscreen, that can be connected to a Building Management System. Wireless controls can also reduce installation time and cost, as there is no need to run low voltage wiring from the fan to individual controls. Specifically:
The Fan Commander 2.0 is also operable remotely, using a mobile device or PC with standard Ethernet connectivity. When connected with the building management systems (BMS), users can coordinate fan operations with other building functions. Weekly schedules can be programmed into the control station to account for work days and off days.
The Fan Commander 2.0 connects HVLS fans up to 400 feet apart. Fans can be arranged into four separate zones and operated simultaneously or independently, as well as turned on and off. Fan speeds are adjustable in 1% increments between the 20% and 100% settings.
The Fan Commander 2.0 works with the full line of Rite-Hite Revolution fans – Revolution, Revolution 150 Series, Revolution 75 Series and Revolution 25 Series – as well as the Rogue. It also contributes to operational efficiency since it eliminates the need to visit multiple fan locations to make adjustments. The control station is password-protected to prevent unauthorized users from adjusting fan speeds.
A number of safeguards are built into the Fan Commander. It features an internal battery, so it retains custom settings in the event of a power failure. Additionally, the control boxes used to relay signals to and from the main control station can be mounted high on walls or columns to avoid damage and minimize the cost of wiring.
www.ritehite.com; 800-456-0600