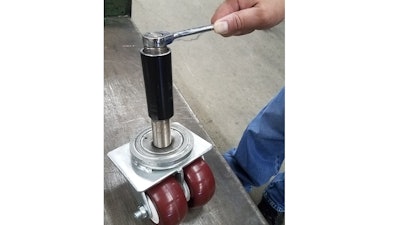 Payson Casters (Gurnee, IL) announces the addition of a new heavy duty custom designed heavy duty caster. This versatile caster of stainless steel or zinc plating is used for machinery or table leveling. Features include:
Heavy duty, with adjustable threaded stem.
A custom-designed hexed shaped CNC machined stud at the top of the stem. This hex top allows for the caster to be ratcheted up and down for specific height requirements.
Special heights, lengths and capacities available for your unique requirements.
The zinc-plated Caster as shown has a large diameter 1 - 1/4 inch threaded stem with two 4 x 2 dual wheels for stability and floor contact.
www.paysoncasters.com; 800-323-4552