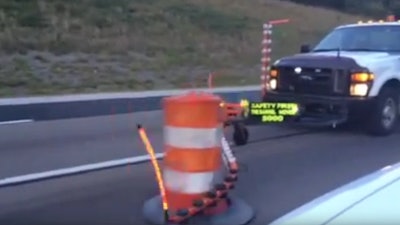 The next time you find yourself growling at the highway construction that's cramping your summer road trip plans, think of this guy: His name is Kyle Ruby, and he's the inventor of the BarrelMover 5000 — an innovative solution that allows workers to safely and efficiently transport lane closure barrels in work zones.
Ruby, a Kentucky native who worked for a private company on the highway for 7 years, invented the BarrelMover 5000 after witnessing firsthand how dangerous work zones were for him and his crew to man during heavy traffic hours. While managing a multi-mile paving job, Ruby also recognized that his crew was spending 2 ½ hours a day alone manually moving barrels. There had to be a better way. He went home and built the BarrelMover in his garage. With it, his crew gained an additional two hours every day and ended the project under budget and ahead of schedule.
The BarrelMover 5000 mounts to your truck by replacing existing tow hooks with mounting brackets. Easy to assemble in less than 10 minutes, it shifts barrels or cones up to two lanes from the left or right shoulder. The main frame's unique design reduces impact to the barrel through spring-loaded shock absorbers. It also comes with LED illuminated guide poles, LED amber lights, reflectors and a magnetically mounted camera. All you need is one worker to drive the truck.
Twenty-Two BarrelMover 5000 units are currently operating from Portland, Oregon, to the Carolinas and up to Ohio. "The best thing I ever did was video the BarrelMover 5000 while we were using it because everyone is tickled to death and can't believe what they see," said Ruby. "The safety factor is huge. It's going to take a while for people to understand what it does and exactly what it makes up for in time and money. In five to six years, after all the subs working on federal highways get it, the government is going to win and get the job done cheaper."
The caster leading the front of the trailer tongue is a Super-Flex caster from Hamilton, OH-based Hamilton Caster. The caster has been designed to be unusually rugged, super cushioning and ready to be shipped PRONTO from Hamilton's warehouse in 24 to 48 hours.
Ruby told the company that he'd tried using other casters to do the job, but they all fell short. Only Hamilton casters held up on the road.
See the BarrelMover 5000 in action:
www.hamiltoncaster.com; 888-699-7164