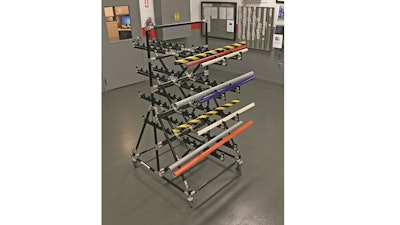 Creform
Creform (Greer, SC) has designed and built the CRE-588, a cart for an automotive assembly operation to hold small batches of interior trim parts. The cart is used to transport parts from the company's supermarket warehouse to the point of installation in the assembly area. The interior trim parts are supported on two sides of the cart, while the open design of the cart makes all parts visible which enhances visual inventory management. This is especially useful when handling a mix of parts. Additional features include:
Two cantilevered arms that extend out both sides of the cart to safely and securely hold the parts.
Each arm features ½" HDPE plastic.
Half-round cradles machined into this plastic for separation and safe handling of the parts.
4 adjustable shelves.
The ability to add, reduce or reposition the shelves.
4 locking 4 in. dia. swivel casters for easy positioning and maneuverability.
Built with ESD 28 mm pipe and joint, the cart has a 38" x 38" base with 65" height, but the dimensions are custom configurable.
A load capacity of 320 lb.
For more information, call, 800-839-8823; or visit www.creform.com.