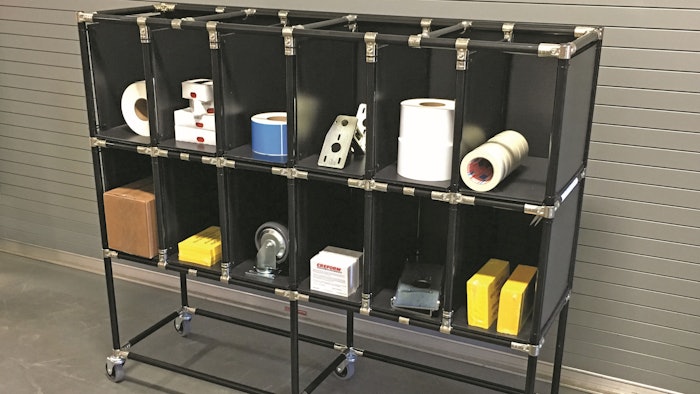 Creform Corporation (Greer, SC) has designed and built a cart that helps manufacturers pull parts from a supermarket storage area and create a 'production kit' to facilitate assembly operations. It also works well to support mixed model production or rapid product changeover. The cart is designed so that production operations only keep what they need, when they need it, at line side and to help minimize the space needed for inventory. It is built with ESD Creform components in order to manage static charge dissipation — often critical in high production operations that deal with electronics. The cart pictured features:
12 compartments to hold parts or subassemblies.
A design for damage-free handling with easy load/unload for production efficiencies.

 

Each compartment features a corrugated plastic floor, sides and a back for separation and retention while the open design enhances visual management.
Two levels of product presentation in the ergonomic 'strike zone.' Each of these levels can be reconfigured with simple tools.

Six 4 in. dia. swivel casters with ESD rubber wheels for easy positioning, stability and safe movement.
Casters which feature brakes that can be engaged for secure positioning. The wheels provide for easy transportation from the warehouse to the production floor.
www.creform.com; 800-839-8823