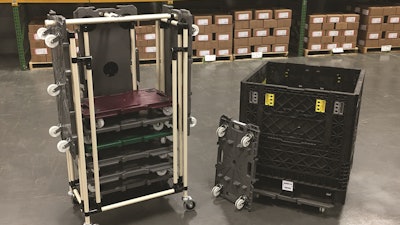 The Creform (Greer, SC) GN Series of Modular Cart dollies allow the user to easily 'put wheels' on just about anything they need to move regularly. They are ideal for moving boxes of components, parts, totes and equipment, and help in maintaining safe and clean work areas by providing a simple and maneuverable platform for keeping containers off the floor. A unique feature of the dolly design is its interlocking ability, which allows several to be locked together to create a larger platform. An added bonus is that no tools are required for connection. Other features include:
Molded-in handholds, making the dollies easy to carry.

A design that allows them to be stacked for compact storage.
The light weight of 11.5 lb. (5.2 kg) with nylon wheels or 12.5 lb. (5.7 kg) with rubber wheels. They are small enough to fit in the trunk of a car and light enough for anyone to handle.

Not only are the dollies ideal for industrial use, but they also can be used in the moving industry, assembly/warehouse operations and in DIY applications.
The particular design pictured, custom designed for a long-time Creform customer, holds ten of the smaller Creform GN-400 dollies, and with an open front, allows for easy load/unload. The cart ensures the dollies are held in position securely during transport. The design also allows for a GN-900 dolly to be hung vertically around any of the three sides of the cart for added flexibility. The customer can position the cart in strategic locations throughout its facility and it provides a way to consolidate unused dollies in a neat and orderly fashion. It is also a way to move a batch of dollies to the point of need.
www.creform.com; 800-839-8823