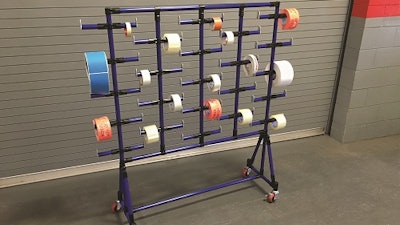 Now there is a solution for those troublesome parts that always seem to be getting lost, misplaced or damaged: a Creform (Greer, SC) cart specifically designed to hold rolls of labels and tape for the production process. This cart is built using a Creform system of pipe and joints and is focused on keeping the stock of labels and tape consolidated in one area to help ensure that associates can quickly find the product they are looking for. Its open design makes all the spools visible, which fosters visual inventory management and selection. Other features include:
A design where the rolls are supported from the center on pins to help avoid damage and, depending on size and design, can hold one or more rolls at a time. Pin positions can be eliminated or repositioned easily with a 5mm hex wrench.
Four large diameter casters for ease of rolling and positioning, two of which lock. A wide variety of pipe color is available.
Custom configurations, and optional accessories including label holders, hooks and more.
www.creform.com; 800-839-8823