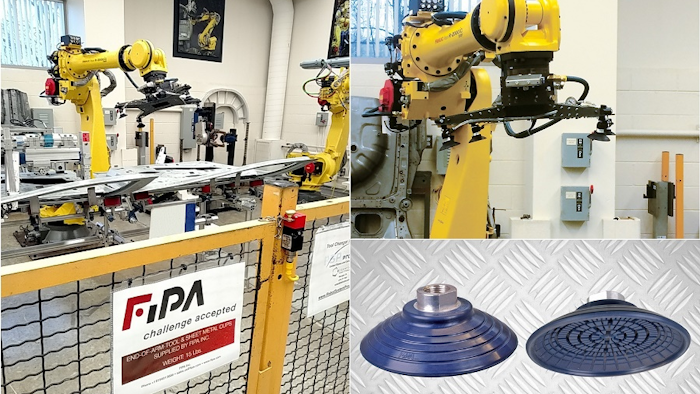 FIPA
FIPA (Cary, NC) recently created a custom End-of-Arm Tooling (EOAT) that complements and enhances the performance of an advanced robotic automation system. Designed for FANUC America, FIPA's 15-pound solution extends the range of parts that their robots can handle.
Built in FIPA's American facilities, and installed in the testing and demonstration laboratory at FANUC headquarters in Rochester Hills, Michigan, the custom EOAT solution features:
4 flat vacuum cups designed for handling oily metal sheets.

A heavy-duty ejector for process reliability.

A carbon fiber frame.

Partially black anodized aluminum components for wear-resistance and ease of maintenance.
The SM-F Series flat vacuum cups enable:
Slip-free handling of oily metal sheets in automotive, metal processing, and mechanical and plant engineering applications.

A design that combines large area, multi-part, anti-slip cleats with large anti-slip supporting ribs.

The ability to absorb the high lateral forces that result from maneuvers like tipping metal sheets, and prevent the deep-drawing or deformation of thin metal sheets.

A silicone-free, NBR material design with a hardness of 60° Shore A.

A soft, flexible sealing lip.

A vulcanized aluminum connection thread (available in several different options).
The heavy-duty ejector (item number 65.120) delivers:
Reliability in harsh environments.

Usable in applications that handle light- to medium-weight workpieces.

Compensation for compressed air fluctuations between 3 bar (43.5 psi) and 6 bar (87 psi).

A compact and robust rectangular aluminum housing that enables the space-saving parallel block assembly of multiple ejectors in both centralized and decentralized vacuum systems.

Availability with auxiliary inputs for blow-off, which enable rapid product release for short depositing times.

Auxiliary inputs for connecting a vacuum switch, which enable process monitoring.

Silencers for noise-optimized operations.

Availability in units weighing between 0.1 lb (48g) and 0.5 lb (225g), and with suction power spanning 30 Nl/min to 130 Nl/min.
For more information, visit http://www.fipa.com and www.fanucamerica.com.