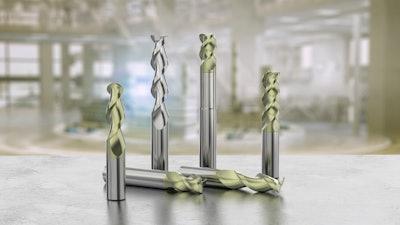 Introducing the new and improved A245/345 product families from Niagara Cutter, a Seco Tools (Troy, MI) company. These tooling solutions have been redesigned to reduce power consumption and improve chip evacuation in aluminum machining applications.
According to the company, the newly upgraded Niagara Cutter A245/A345 product family solves the power consumption issue that most aluminum manufactures encounter. By combining an engineered flute shape and polished K-land, giving you an optimal combination of helix angle and rake angle, this product family reduces power consumption by a minimum of 20%.
This product family upgrade also has the latest in engineered PVD coatings called ANF (Aluminum Non-Ferrous). The truly unique coating reduces friction and built-up material on the cutting edge, which improves workpiece surface finish and increases tool life, removing surface finish quality issues when milling aluminum. This can greatly increase the product's tool life as compared to uncoated and TiCN coated solutions.
www.secotools.com/NC-aluminium-finishing, 248-528-5200