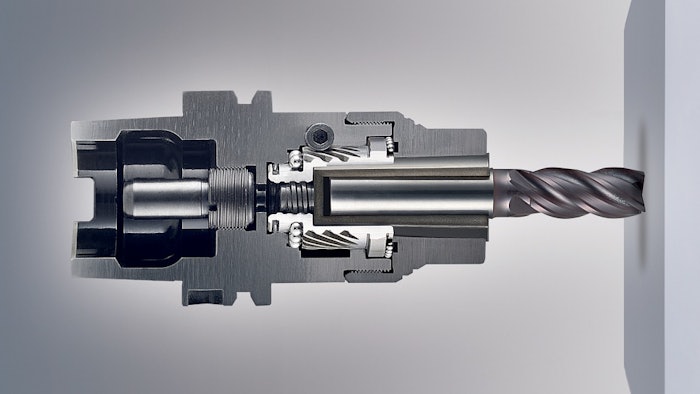 Emuge
Emuge (West Boylston, MA), in partnership with Albrecht Precision Chucks, has introduced high precision FPC Mill/Drill Chucks that provide rigidity, vibration dampening, concentricity, machining speed, and tool life for milling and drilling applications.
Featuring the world's only chuck with a 1:16 worm gear, Emuge FPC Chuck's patented design delivers three tons of traction force. The design and body provide 100 percent holding power for maximum rigidity, and the collet-cone assembly absorbs virtually all vibration for maximum dampening. Additional features include: 
High transferable torque that provides process reliability — transferred torque on a tool shank diameter of 20 mm is 400 Nm.
Increased accuracy with a 3 x D tool length, concentricity is ≤ 3 µm to guarantee long tool life and quality work piece surface finishes.  
A chuck that is mechanical drive-actuated with a hex wrench; a simple design that enables quick tool change.
Special holder design that reduces vibration to improve work piece surface finishes.
A strong clamping force to prevent the possibility of pull-out.
Availability in four shank styles (CAT, HSK-A, SK, and BT) in 47 different SKUs for a range of applications. 
Collets that are available in three size ranges (FPC 14, FPC 20 and FPC 25) in over 35 different SKUs, from 1/8" to 1/1/4", and in metric from 2 mm to 32 mm.
For more information, visit http://www.emuge.co/holders/FPC-Chucks, or call 800-323-3013.