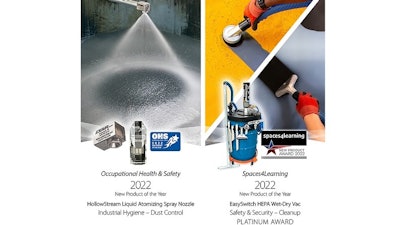 The EasySwitch HEPA Wet-Dry Vac from EXAIR (Cincinnati, OH) won the Platinum 2022 New Product of the Year Award from Spaces4Learning in the Safety and Security Cleanup Category. The HollowStream Liquid Atomizing Spray Nozzle won the Occupational Health and Safety 2022 New Product of the Year Award in the Industrial Hygiene - Dust Control Category.
The EasySwitch Wet-Dry Vac simplifies the filter change process when switching from vacuuming a dry material to a liquid or vice versa. Utilizing minimal compressed air, the EasySwitch is a powerful pneumatic vacuum that is ideal for any application - wet, dry, light and heavy. The EasySwitch vacuum uses a standard or HEPA certified filter when vacuuming dry material.

EXAIR's HollowStream Liquid Atomizing Spray Nozzle provides a hollow cone spray pattern for pressurized liquids. They are applied to solve cooling, cleaning, foam breaking, rinsing and dust suppression applications for industry. The tangential flow design is vaneless, with wide open internal features to resist clogging while producing a uniform distribution in a ring pattern with medium to large droplets. Their right-angle design is compact and works well with liquids containing particulate.

https://exair.co/33-easyaward, https://exair.co/33-HLSaward