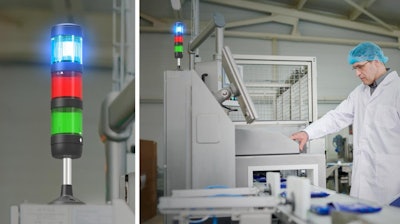 Pfannenberg, Inc. (Lancaster, PA) highlights the INTENSE BR50 Series Stacklight. The INTENSE BR50 is the brightest stacklight available, which outshines previous Pfannenberg LEDs by 10,000 percent. The new INTENSE BR50 Series Stacklight features an online configuration tool that makes it easier to design a simple stack light and provide a manufacturer's suggested retail price and the resulting bill of materials.
The line of Stacklights results in significantly improved safety and productivity from increased levels of ambient light. Whether installed on cabinets, machinery frames or junction boxes, INTENSE BR50 Stacklights adds to facility safety, productivity and style. Additionally:
They are available in a variety of mounting options, including direct-to-base, tube-and-bracket and tube-and-stand (plinth). The optional wall-mount bracket creates a clean look.

The exponentially brighter LEDs offer higher visibility and a slim design (ø 54 mm).

The INTENSE BR50 LED's heightened luminosity is further amplified by the internal prisms' impact-proof, heat-resistant, and dust-proof polycarbonate lens, which is easily identified from all sides.