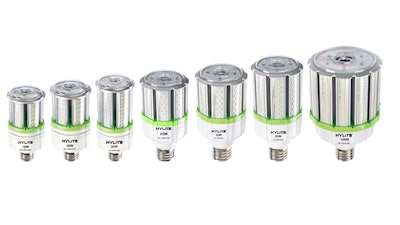 The NexGen LED Omni-Cob Lamps from HyLite (Charlotte, NC) are heavy-duty, industrial grade lamps with highly efficient lighting design and offer excellent illumination all around. Saving between 67%-90% they significantly reduce energy consumption and re-lamping costs.
Designed for easy installation in new and existing fixtures, the NexGen LED Lamps are suitable for damp locations and for fully enclosed fixtures which make them excellent for use in a variety of applications.

The NexGen Omni-Cob Lamps are ideal for replacement of traditional CFL, MV, HID and HPS Lamps.