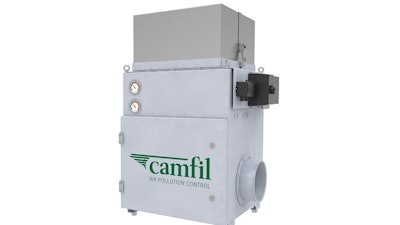 The EM-O Compact mist collector from Camfil APC (Jonesboro, AR) is an affordable option for smaller machine shops looking to provide a cleaner and safer work environment. This plug-and-play, small-footprint mist collector was designed to separate either oil or synthetic coolant mist from the air before it is inhaled by operators or settles on machines, floors and other surfaces. The EM-O Compact mist collector is simple to integrate into machine tools. It can be mounted on top of the equipment or on the floor next to equipment as a stand-alone device. Machine operators can easily convert the EM-O Compact between oil and synthetic mist collection because the same basic filter elements are used for both. An optional HEPA after-filter can be mounted on top of the unit. The EM-O Compact mist collector features:
Compact construction.
Maximum filter area.
Full lubrication applications.
Selected minimum lubrication applications with 470-700 cubic feet per minute air volume.
>F9 separation (filtration) efficiency with optional HEPA filter.
Long service life.
Quiet operation.
Easy filter replacement without tools.
Energy efficiency.
www.camfil.com; 800-479-6801