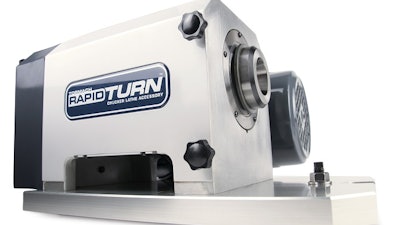 Tormach
Tormach (Waunakee, WI) has released the Tormach RapidTurn, a 5C CNC chucker lathe attachment designed for use with the company's PCNC 1100 or PCNC 770 mills. Features include:
PathPilot, the company's

CNC machine control system that is designed for CNC machinists of all experience levels.

A space-saving design and quick setup

.

A manual index plate with a locking pin.

The ability to securely position parts in 15° increments for secondary work with the PCNC's primary spindle, making it ideal for cutting wrench flats or drilling cross holes on turned parts without additional setups.

A suite of accessories, including quick change tool holders, adjustable tailstock, tooling, and 3-jaw chuck.
For additional information, visit: torma.ch/z; or call 608-849-8381.