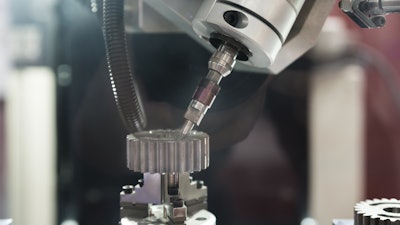 LONDON -- Technavio, a market research company, has announced the top five leading vendors in their recent global 5-axis CNC machining centers market report (see chart in gallery).
The global 5-axis CNC machining centers market is moderately consolidated and is characterized by a mix of global and regional vendors. In the present market scenario, vendors are constantly trying to invest in technology to develop innovative, energy-efficient, and advanced CNC solutions, which can be used in end-user industries.
"Local vendors operating in the market are unable to sustain profit margins, owing to the dominance of established global players. End-users are more inclined toward reputed players that provide high-quality and premium products at a higher price," says Raghav Bharadwaj Shivaswamy, a lead automation research analyst at Technavio.
As the global 5-axis CNC machining centers market is in a growth phase, it is expected to see a number of mergers and acquisitions during the forecast period. The Asia-Pacific (APAC) region promises to be a high-growth market where vendors are expected to diversify in terms of their global presence.
According to Technavio, the top five 5-axis CNC machining centers market vendors include:
Haas Automation
Haas Automation provides a wide range of CNC machines under four major categories, namely, horizontal machining centers, vertical machining centers, CNC lathes, and rotary products. Haas Automation produces all critical components in-house using exclusive state-of-the-art CNC machine tools to ensure the maximum accuracy.
Hurco
Hurco is a leading player in CNC machine tool technology for the past 45 years and owns approximately 80 patents. It manufactures reliable CNC machine tools that have the most precise control, through advanced programming.
Makino
Makino 5-axis horizontal machining centers ensure optimized productivity and accuracy in the most complex 5-axis machining tool applications. Makino 5-axis vertical machining centers are designed to maximize productivity through thermal stability and the elimination of cumulative errors.
Okuma
Okuma is a prominent manufacturer of CNC machine tools across the globe, delivering innovative solutions such as a new ground business strategy. Its 5-axis CNC machines deliver high-speed operation with increased level of accuracy.
Shenyang Machine Tools
Shenyang Machine Tools ABswing series CNC machines serve industries such as aviation, space, energy, shipbuilding, and molds. Its products are subjected to plastic deformation as per the market needs to meet the requirements of large-scale and strong capacity machining. The products are widely used in applications such as processing of molds, base frames, cases, and large and small boxes in various industries.