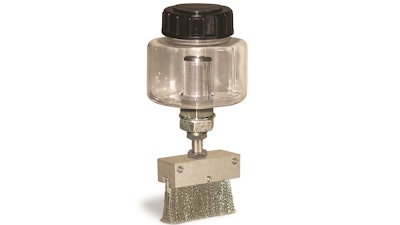 Oil-Rite Corporation (Manitowoc, WI) offers a rapid replenishment oiler for equipment facing daily washdowns, like food processing and packaging environments. The washdown oiler is designed for harsh conditions with features like:
Corrosion-resistant material composition, with a bottle made of polycarbonate and a cap of polypropylene.

The filter has a stainless steel screen on an aluminum body, with all other components made of stainless steel, including the brush bristles.

Provides rapid lubricant replenishment with a five-ounce reservoir that is intended to be filled at start-up. Depending on oil and environmental conditions, the oil is dispensed at a controlled rate over 15 to 30 minutes.
The brush height is adjustable by ½" to compensate for wear.

A 5/8 – 18 threaded shank with nut allows for mounting to a bracket.