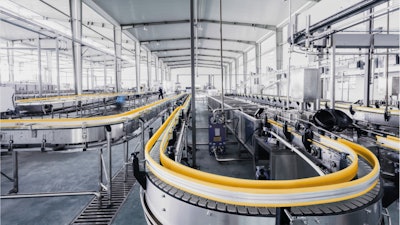 Kluber Lubrication (Londonderry, NH) has unveiled their Kluberplus C2 PM2 Ultra Dry, a plastic conveyor belt lubricant for the food-processing industry. According to the company:
The lubricant can increase packaging line efficiency by 1-5 percent.

Its superlubricity increases line speed without risking belt stability. This low coefficient of friction means that fewer bottles, cans and containers topple.

The homogeneous nature of its composition creates a solution that does not separate. This prevents conveyor belt residue and reduces nozzle blockage.
The dripless dry formulation supports plant safety by ensuring that work surfaces don't get wet and slippery. Less residue build-up and an embedded cleaning agent also reduces the risk of bacteria growth and the need for cleaning.