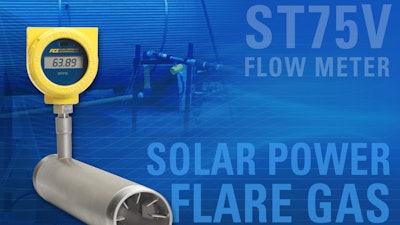 FCI offers its solar-powered ST75V Flow Meter with built-in Vortab flow conditioner. Additional features of the meter, which could be used in more remote field sites that lack easy access to electric power, include:
The constant power technology meters require very low power compared to the alternative.
The ability to provide direct mass flow measurement of the gas without the additional equipment required with other flow measurement technologies.
A non-clogging sensor design that operates over a wide flow range with low-flow sensitivity.
24Vdc power without any special modifications.
A rugged NEMA 4X/IP67 rated enclosure.
An inline-style flow body providing accuracy to ±1% of reading with flow ranges from 0.04 to 560 SCFM (0.07 to 950 NCMH), depending on pipe size, and repeatability of ±0.5 percent of reading. It is suitable for line sizes from 0.25 to 2 inches (6 to 51 mm) diameters. For larger diameter pipes of 2.5 to 200 inches [63 to 5000 mm], FCI provides insertion-style flow thermal flow meters such as models ST98 and ST100.
Constructed of a 316L stainless steel body and Hastelloy C-22 thermowell sensors to resist corrosion.
More information is available at: www.fluidcomponents.com