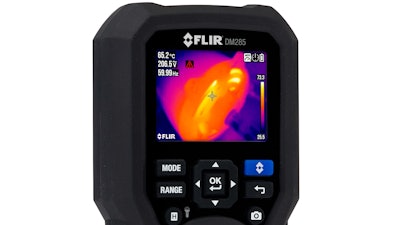 FLIR
FLIR (Wilsonville, OR) has introduced the FLIR DM285 thermal imaging digital multimeter, an industrial inspection, troubleshooting, and diagnostic tool for a variety of electrical and electro-mechanical applications, as well as for heating, ventilation, air conditioning, and refrigeration (HVAC/R) inspection. Additional features include:
The ability to measure temperatures up to 400°C.
160x120 thermal resolution.
Stores data for 10 sets of 40k scalar measurements and 100 images.
A recall function for data review in the field.
A built-in worklight and flexible battery options, including the long-life FLIR TA04 Li-Poly rechargeable battery or standard AA batteries.
Silicone test leads.
Alligator clips.
A Type-K thermocouple.
A test lead storage/holder attachment.
A soft carrying case.
Suitable for troubleshooting electrical applications, including overheating panels, fuses, and loose connections.
The ability to be used for diagnosing issues in electro-mechanical equipment, such as rotating and reciprocating pumps and compressors, electric motors and drives, and associated monitoring and automation systems.
Applicability in HVAC/R, as well as repair of printed circuit board components, voltage regulators, power supplies and microprocessors.
For more information, visit www.flir.com/IGM-Meters.