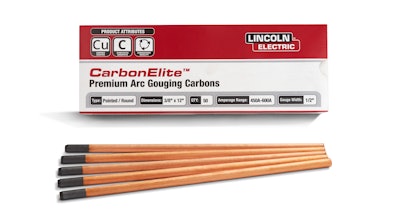 Lincoln Electric (Cleveland, OH) has launched a product line of premium arc gouging carbon electrodes. The CarbonElite Arc Gouging Carbons are made of a proprietary composition to deliver consistent, high efficiency metal removal. The introduction of the CarbonElite product line marks the first time Lincoln Electric will offer arc gouging carbons within the United States and Canada. The CarbonElite arc gouging product line offers four types of carbons for use in numerous semi-automatic or automatic applications:
Pointed: Versatile multi-purpose round gouging electrode.
Jointed: Round electrode with male and female ends to eliminate stub loss.
Flat: Rectangle shape for close-tolerance metal removal and/or to create rectangle grooves.
Hollow: Round electrode with hollow core to allow faster travel speeds without sacrificing groove depth.
CarbonElite electrodes are ideal for a variety of fabrication applications including the removal of defective welds, preparing joints for welding, severing, pad washing and beveling.