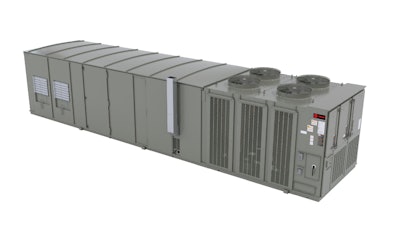 Trane
Trane by Trane Technologies (Davidson, NC) announced an upgrade to the IntelliPak 1 which meets the U.S. Department of Energy's (DOE) 2023 minimum efficiency requirements and now comes equipped standard with the Trane Symbio 800 controller.
The IntelliPak 1 delivers a part-load efficiency rating of up to 18.5 IEER (Integrated Energy Efficiency Ratio) depending on the system configuration and meets ANSI/ASHRAE/IES Standard 90.1-2019.
It provides three tiers of efficiency for most tonnages to meet specific application and regulatory needs:
Standard efficiency
High efficiency
eFlex ultra-high efficiency
Available in capacities ranging from 20-130 tons, the IntelliPak 1 offers durability, low operating costs, easy customization and fast installation. The dimensions of the new units match the legacy footprint to accommodate easy upgrades.
With the Symbio 800 connected controller, owners can monitor and service their buildings remotely, troubleshoot issues and use Trane's energy management tools and intelligent services. The controller integrates with all standard building communication protocols and offers easy building connectivity. The Adaptive Controls algorithm in the Symbio 800 software helps keep IntelliPak 1 units running even during challenging conditions. Features include:
Simplified integration with common building communication protocols.
A rugged seven-inch touch screen with intuitive navigation simplifies access to data and alarms for quick resolutions.
Local scheduling, capable of operating without a building automation system and connection to building management system through TraneConnect.
Data logging for standard, local or remote intuitive review and analysis of equipment, zone and building performance.